Searching for mentors is a great way to meet truly generous people around the globe. Gavin, an eleven year old research fellow at Baden Academy, got lucky this year with a whole team from Australia that is helping him write his book on the Little Blue Penguins of North Sydney Harbour.  The team included scientists, park rangers, conservation officers, and even a college student from , They have collaborated with him through Google docs to construct the storyline and drama for his children's book about these amazing tiny penguins. The draft done with the artwork uploaded, he sent it as a pdf in an email (through me) to his mentors, hoping for some edits. The response was so supportive and chalk full of really good advice. It included two marked up pdfs of his 32 page book and several email threads. Many of the comments were about wording (Australians don't say soda, rather 'soft drinks'), some were scientific (a debate over how many weeks or months the little penguins wait between clutches), and some were humorous (the conservation officer took some ribbing as he seemed to be doing all the work in the book and the hard work of the rangers wasn't mentioned). All in all, Gavin faced 48 pages to sift through and organize into a final draft. I mentioned our deadline for submission, "by midnight."  Gavin looked from me to the stack and back to me several times, speechless. "Gavin," I said, "there are moments in life when you realize why they invented swearwords. Personally, I've always liked Robin from the old Batman TV series – Holy Pile of Papers, Gavin" He laughed, then methodically started integrating each comment and suggestion.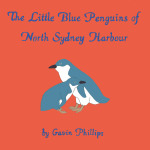 Two years of writing this penguin series, Gavin has grown in this extraordinary capacity (some call it grit or resilience) to approach a seemingly daunting task with a sigh and smile. There are days in my work with the Research Fellows when I wonder if what I ask of them is too much.  There are moments when I see them struggle with a really challenging concept or a daunting task and I ask if this is the right way to enable them.  But when I ask, "Is this too much." or "Should we call it quits?" I find in them a reserve a strength and passion that always surprises me. Gavin's passion led him to work through his fourth grade year writing the first book of his penguin series,
Saving a Galapagos Penguin Family.
His passion led him to market his book online and at various book signings to raise over $300 dollars for conservation efforts for penguins.  His passion found him actually playing with penguins at the
National Aviary the day
he delivered his first check. His passion led him to collaborate with some amazing scientists, students, and rangers from around the globe.  Passion starts young, and I find that when it is tapped, it producing something extraordinary not only in that child or person, but in the community surrounding it. It is contagious and brings a wave of creativity and enthusiasm.
Come to the
Imagination Celebration
on Friday, May 29, for the premiere of Gavin's book and sixteen other Fellows projects.  The night includes a keynote speaker from FedEx and several youth TED Talks, a music video premiere and lots and lots of activities for children (green screen videography, robot races, book signing, and even a makeup table)! Start thinking about how to inspire passion in the young people in your lives and let me know how I can help!
Gavin wrote a book about penguins & donated his profits to the Aviary. Thank you from the colony! #WorldPenguinDay pic.twitter.com/o7C0JzL9jd

— National Aviary (@National_Aviary) April 25, 2015