World Changers create books, graphics, and websites that raise awareness and funds for worthy causes. Examples of past Research Fellow Projects include:
FEATURED WORLD CHANGER: GAVIN IS SAVING PENGUINS
Gavin asked what he could do to aid the conservation effort of penguins. He wrote Saving a Galapagos Penguin Family that benefits the National Aviary and The Little Blue Penguins of North Sydney Harbour benefits the New South Wales Parks Program.  His second book was written in collaboration with mentors across the globe; conservation officers, park rangers, and graduate students working to save the Blue Penguin. Find out more about applying for a Grow a Generation Research Fellowship.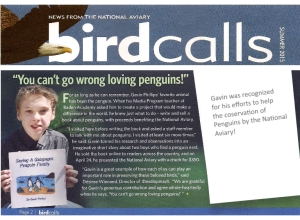 Congratulations to Gavin for a wonderful write up in the National Aviary newsletter Birdcalls. Find out more about Gavin's work to help the conservation efforts of penguins and his two wonderful children's books.
Text of the article:
For as long as he can remember, Gavin Phillips' favorite animal has been the penguin. When his Media Program teacher at Baden Academy asked him to create a project that would make a difference in the world, he knew just what to do – write and sell a book about penguins, with proceeds benefiting the National Aviary.
"I visited here before writing the book and asked a staff member to talk with me about penguins. I visited at least six more times," he said. Gavin turned his research and observations into an imaginative story about two boys who find a penguin nest. He sold the book online to readers across the country and on April 24, he presented the National Aviary with a check for $350.
"Gavin is a great example of how each of us can play an important role in preserving these beloved birds, : said Désiree Wienand, Director of Development. "We are grateful for Gavin's generous contribution and agree whole-heartedly when he says, "You can't go wrong loving penguins!"
What is your child passionate about?  Do they want to write a book or develop a website?  Remember, the overall purpose must be to serve others.  All books must reflect robust research into the topic chosen and a genuine desire to build a more just and beautiful world.