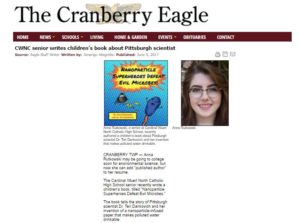 Thank you to Amerigo Allegretto for a great write up on Research Fellow Anna Rutkowski's new book Nanoparticle Superheroes Defeat Evil Microbes. The text follows:
Source:
Eagle Staff Writer
Written by:
Published:
June 5, 2017
CRANBERRY TWP — Anna Rutkowski may be going to college soon for environmental science, but now she can add "published author" to her resume.
The Cardinal Wuerl North Catholic High School senior recently wrote a children's book, titled "Nanoparticle Superheroes Defeat Evil Microbes."
The book tells the story of Pittsburgh scientist Dr. Teri Dankovich and her invention of a nanoparticle-infused paper that makes polluted water drinkable.
Anna partnered with Dankovich to craft the story, then created the illustrations.
"I was inspired by her and her ability to create such an amazing invention that will save millions of lives in developing countries," Anna said. "It inspired me to try and reach out to as many people as I can with my writing and illustrate the importance of clean drinking water."
The 36-page book is intended for students from second to sixth grades.
Dankovich, who also is a co-founder of Folia Water, has developed and tested the technology for the past several years for a book containing filtering paper that kills bacteria in the water as it passes through. Her efforts are aimed toward less-developed countries that struggle with clean drinking water.
"It's very important for American kids to understand that they're basically really lucky that their basic needs are met without having to think twice about it," she said.
Dankovich has her bachelor of science in textiles and fiber science from Cornell University, a master of science in agricultural and environmental chemistry from the University of California in Davis, a Ph.D. in chemistry from McGill University and completed postdoctoral research at the Center for Global Health at the University of Virginia and civil and environmental engineering at Carnegie Mellon University.
Any profits from the book will go to Folia Water to assist in its mission to bring clean water to every person in the world.
"Every day, we just turn on the tap and we get water," Anna said. "We can't forget that there are people in developing countries who have to carry heavy jugs down rivers and get water that isn't necessarily clean."
Anna plans to attend Duquesne University in Pittsburgh this fall and continue her studies upon graduation. She said writing has always been a hobby for her.
She also said she wants to go into conservation and one day travel to other countries with endangered species and environments.
Anna described the process of working with Dankovich on the book as "an amazing experience."
"She was such an amazing person," Anna said. "She has given so much research to us and told us how this is done."
Dankovich said Anna approached her last fall about the book.
"I helped her out with the details on the project," she said. "I thought it was a good book and kept things simple so kids can understand."
– See more at: http://www.thecranberryeagle.com/article/20170604/CRAN0101/706059841/-1/CRAN01#sthash.sZWCHEAU.dpuf