Fortune Magazine recently quoted Jess Lee, a former Google product manager who is having trouble staffing her profitable startup; "I think this might be the worst engineering market ever.The kinds of offers they're giving out are astronomical."  The article goes on to explain the average annual salary for Google software engineers now hovers around $143,000 and skyrockets to as much as $550,000, before factoring in generous signing bonuses and company perks.
The Bay area is not alone in searching for talent.  Pittsburgh Tech Council currently advertises 723 jobs with 114 employers with job descriptions of SAP lead analyst, Sr SQL Server DBA. Senior DevOps Engineer.  None of these are listed (really, NONE!) on the most popular test for career interests, the Strong Interest Inventory which does mention "Computer Scientist" yet sets it far and away from their other recommendations of farmer (forgetting modern agriculture relies on technology) and florist (not bringing up that a florist must now navigate social media, online marketing, and the growing impact of synthetic biology in the field).
Diverse companies, searching for talent that knows their industry AND technology are now making some interesting partnerships to quickly generate qualified candidates.  Online MOOCs (Massively Open Online Courses) are offering nanodegrees and certified courses that can appear withing months on a resume.  Stanford's Udacity offers Nanadegree Programs in App Development, Data Analysis, and Web Design for only $200 a month and the ability to finish a 6 course long nanodegree in as little as six months. The courses are designed to learn by doing and help you prepare a portfolio of demonstrable skills.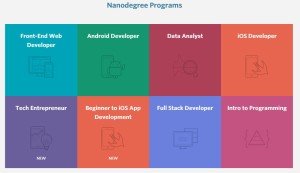 Coursera partners with Universities around the globe, each of which is partnering with employers to help develop and recruit talent. These programs use verified testing (they measure the cadence of your typing and use a webcam in some cases). For example, the University of California has partnered with splunk> to create a 6 course specialization in Big Data (cost $49 per course – that is 49 dollars, not 49 thousand). Other colleges include Duke, John Hopkins, University of Pennsylvania, University of Illinois, and the University of Washington.
These programs are working directly with employers looking for new technology hires. Udacity's Site claims
Nanodegree curricula are designed to develop and demonstrate the skills that employers expect. Our partner companies are committed to hiring graduates of the programs when there are matching positions available. To be eligible to be introduced to companies through Udacity, make sure to fill out your Udacity Profile and keep it up to date as you progress through your Nanodegree.
We're working to build a group of companies with significant tech hiring needs that will join AT&T in offering internships and recognizing Nanodegree credentials. For example, companies such as Autodesk and Cloudera already endorse Nanodegree credentials and are eager to get a first look at graduates from these programs. 
Other companies are partnering with brick and mortar (sometimes traveling) 12 week boot camps. Fortune magazine featured a 2013 article on these nouveau vocational schools for those wishing to learn to code…
Nine- to 12-week accelerated programs, including Dev Bootcamp, Hackbright Academy, and Hack Reactor, arm students with the fundamental skills needed to compete as engineers — no previous coding experience required. That, coupled with pent-up demand is why program applicants come from all walks of life, from thirtysomething nannies to fortysomething attorneys and bankers.
Thinkful provides a list and reviews of over thirty different Bootcamps that you can browse by topic and city.
CAUTIONS
I strongly recommend that these experiences are part of a both/and experience of a traditional college degree and in that light share three cautions. First, technology is always changing. You get a great job, but then need to perpetually be in school simultaneous with working to keep riding the maverick wave of Moore's Law. Second, technology and a great salary are not sufficient ingredients to prepare you to be happy in life, thrive in relationships, and find passion and purpose.  Finally, I heed seriously the cautions of Haim Ginott.  Preparing students to embrace rapidly changing technology without immersing them in the failures of history, the great insights of philosophy, the beauty of art, is to paint a superficial face of progress on the decline of civilization. Encourage them to focus on the problems they seek to help solve in the world, then learn the technology that will best serve the needs of those most effected by those problems.
Haim Ginott quoting a holocaust survivor in his book Parent and Child…
Dear Teachers:
I am a survivor of a concentration camp. My eyes saw what no person should witness. Gas chambers built by learned engineers. Children poisoned by educated physicians. Infants killed by trained nurses. Women and babies shot and burned by high school and college graduates.
So I am suspicious of education. My request is: help your students become more human. Your efforts must never produce learned monsters, skilled psychopaths, or educated Eichmanns. Reading, writing, and arithmetic are important only if they serve to make our children more human.