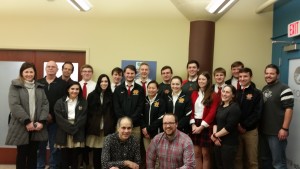 Biology students from Cardinal Wuerl North Catholic High School embarked on a STEM Careers Tour!
The first stop on the tour was Knopp Biosciences located in Pittsburgh's South Side neighborhood. Knopp Biosciences is a drug development company, equipped with state-of-the-art electrophysiology, cell biology, and medicinal chemistry labs. Their current focus is to develop drugs to treat epilepsy and asthma. Prior to touring their labs, students sat down with their biologists and chemists (over bagels and coffee!) and learned about their educational and professional backgrounds. Knopp professionals provided advice for the students planning to pursue STEM degrees (HINT: get research experience in college!).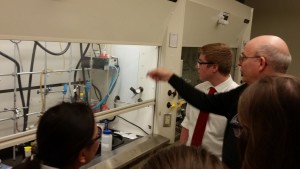 Students then toured the organic chemistry lab at Knopp Biosciences, where their chemists are working to develop organic molecules designed to hit specific biological targets. Once the compounds are developed, they are tested by the biologists to determine if they are causing the desired response in the cell line. The biologist communicates her findings back to the chemist, so she can alter the molecule in an effort to get the desired response in the cells. Once a compound shows the desired result in the lab, it is shipped out for further testing on lab animals to see not only if the desired result is still achieved but also, what other responses the drug may cause in the animal. Biologists at Knopp Biosciences are also studying how a small molecule they developed reduces a variety of white blood cells and assists in the treatment of asthma.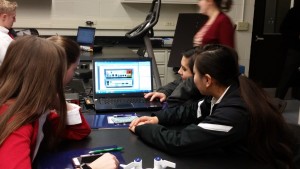 The next stop on the tour was the Department of Biological Sciences at Duquesne University. The department has 16 faculty members focused on teaching and research. We ate our brown bag lunches while listening to a student panel of graduate and undergraduate biology students talk about their experience transitioning to college, why they chose to major in biology, and why they decided to continue with a graduate degree. They advised students to master time management, join extra-curricular activities on campus, and develop a rapport with your professors. After the student panel, several professors spoke to us about their research. Unique to the Department of Biological Sciences at Duquesne University, we learned about the SuperLab course, where students get hands-on laboratory experience by identifying a mystery micro-organism one semester and confirming their result via DNA testing a second semester.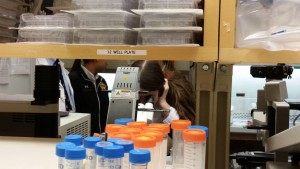 For our last stop of the STEM Careers Tour, Cardinal Wuerl North Catholic students visited The Hillman Cancer Center where they toured the labs of Dr. Lisa Butterfield. The labs study the interaction between the immune system and cancer. Dr. Butterfield recommended that students who have an interest in research to get experience in different labs and with different areas of research to understand what they like to do. She said that she is constantly reviewed and critiqued, but that it makes her better at what she does. The next tour at the Hillman Cancer Center was the labs of Dr. Timothy Burns that study the development of targeted therapies for treating lung cancer. Dr. Burns has both his PhD. And MD., which he says enables him to treat the patients that are in his clinical studies. Students were encouraged to apply to the University of Pittsburgh Cancer Institute Academy that enables students as young as 15 years of age to spend their summer conducting research.
Students who attended the tour gained a better understanding of not only the careers available to them within the biological sciences, but also a sense of the people and working environments in these dynamic and growing fields.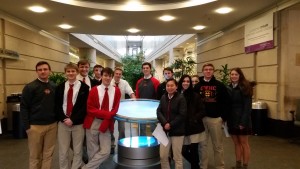 "It was an amazing experience!"
"It was interesting to see all the different labs and how equipment and technique vary."
"I enjoyed seeing how all the scientists work together."
Is your school or classroom looking for a daylong STEM Careers Tour?
Visit https://growageneration.com/services/stem-career-tours/ for information and to request a quote.