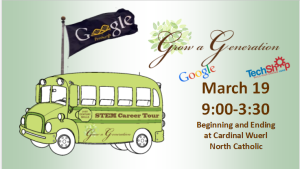 LET's visit Google! Grades 6-12
SATURDAY March 19, 2016  9:00am – 3:30pm
Leaving from Cardinal Wuerl North Catholic
Grades 6-12 are invited for an exciting tour of the magical offices of Google Pittsburgh. Get a chance to talk with some of the extraordinary software designers and technology gurus that work there.
Following lunch (on your own at the local Panera or Jimmy Johns) we will walk through TechShop, a cutting edge facility and prototyping studio with more than 16,000 square feet of workshops.  Learn about their world class tools and equipment, computers loaded with design software featuring the Autodesk Design Suite,  hundreds of classes each month, and the support and camaraderie of a community of like-minded makers.  
The online link to register for the Google trip is
https://events.membersolutions.com/event_register.asp?content_id=62295
Printout registration form (bear in mind that space is limited and on a first come basis).
https://drive.google.com/file/d/0B19jMvBPwoK9VlQ5Ul8zYXA3VDg/view