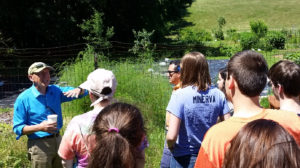 On our last day of the 2016 CWNC STEM Careers Tour, we went to the Falk School of Sustainability. The Falk School of Sustainability was founded in 2010 at Chatham University's Eden Hall Campus. It was inspired by the work of Rachel Carson, famed author and environmentalist (and 1929 Chatham University alumni), who advocated sustainability and the importance of environmental protection.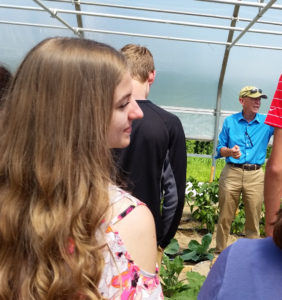 Our tour was led by Dr. Peter Walker, the Dean at the Falk School. Our first stop was the experimental garden, where students plant different flora and add/adjust variables related to the growth to test their hypotheses. For example, some students developed a "high-rise apartment" for wild bees made out of cardboard and supplemented with other necessities to attract bees to stay and pollinate the garden consistently. Another student was testing the effectiveness of solar energy on a black tarp as a weedkiller.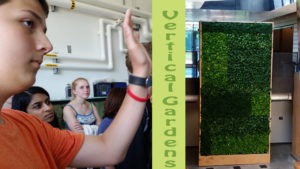 After the garden, we went across the street to the eco amphitheatre and dairy barn turned cafe. The cafe, we learned, is heated by a geothermal loop, which  stores the hot and cold air from the different seasons and uses them to heat or chill the cafe based on the temperature.
We learned that the school uses natural bacteria and other filters to treat all water on campus, succeeding in places water back into the earth cleaner than before use on campus.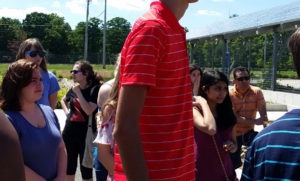 Some of this water goes to their Aquaculture Center, where they use more natural filters to create ideal environments for their fish. They also filter the water that is tainted with ammonia through the nitrogen cycle on site.
We finished of the tour at the dining hall, where we got to learn about their various STEM inspired degrees, including  the: Master of Arts in Food Studies (MAFS), Master of Sustainability (MSUS), Bachelor of Sustainability (BSUS), and the dual-degree Master of Sustainability-Master of Business Administration (MSUS-MBA).