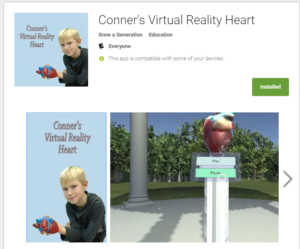 Download the new Virtual Reality App "Conner's Virtual Reality Heart" from the Google Play Store. 
I want to say thank you to the 5 students from the Grow a Generation Virtual Reality Class who created this awesome VR experience for you. Thank you to Sari Abu-Hamad, Sean McCarthy, Derek Hufnagle, Logan Husek, Jacob Stewart as well as Jacob Gorczyca (their fearless leader) and Andrew Boehm (VR technical assistance).
The fall of 2017, a team of 5 students came together for an introduction to Unity programming and the challenge to build a Virtual Reality experience for children facing heart surgery.  The project was part of another – 8 year old Conner wants to help kids like him, kids who need to face heart surgery, feel more courageous.
The learning curve was steep.  This is the first Unity programmed up we've seen through to development.  All the kids worked hard learning about the various aspects in product development and the introductory concepts of Unity Programming.
CREDITS
Narrators: Conner Fritz and Sean McCarthy
Unity Programming
Sari Abu-Hamad, Sean McCarthy, Derek Hufnagle, Logan Husek, and Jacob Stewart with help from Jacob Gorczyca and Andy Boehm.
Heart Model Used in 3D Scan made by Learning Resources
This project was made possible by a Grow a Generation Mini-Fellowship Camp