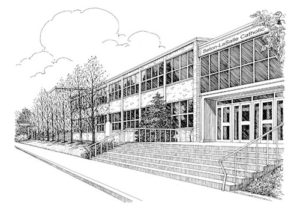 Three teachers from Seton LaSalle High School are being honored this Wednesday,  May 23rd for the completion of a year-long Distinguished Educator Research Fellowship through Grow a Generation.
Miss Emily Rosati and Dr. Anthony DeCaria partnered to lead seven Seton LaSalle freshman to write an original children's book about wind energy in Pennsylvania. Their journey began with research.  They were drawn to clean and renewable energy and sought out global and national voices celebrating the latest technology and advances in the field.  They found a mentor in the American Wind Wildlife Institute (AWWI) and began to write their narrative. Wanting to "get things right" the group spend a day traveling to the Patton Wind Farm in Somerset County, St. Francis University Institute for Energy and the Pittsburgh Energy Innovation Center. Edits to their original draft were suggested by Christine Real de Azua from AWWI and everyone they met on the tour.  Their cross-curricular book project complemented and built upon standards and course objectives in a STEM project with real world outcomes.
The book was an opportunity to apply science and language requirements of a high school classroom to a real-world project.  You are invited to buy a copy of The Boy, the Bird, and the Turbine and enjoy the story of a Western Pennsylvanian boy befriending a hawk and discovering more about the new wind turbines that are scattered into their landscape. The book is published through Grow a Generation and available on Lulu   https://goo.gl/cr8Amb   Any and all profits go to AWWI.
Mr. Wade Schnorr connected high school astronomy and robotics students of Seton LaSalle High School with real-world problems of space exploration.  His class researched the problems facing space roboticists in the search for life in the atmosphere of Mars, the regolith dust cutting into equipment on the lunar surface, or the methane rain on Titan as the new future Dragonfly drone explores Saturn's moon.  His class visited Astrobotic, a local space robotics company currently contracting payloads for their first lunar mission. Students Gabi and Ryan filmed an interview with Propulsion Engineer Jeff Hopkins and Systems Engineer Ander Solorzano.  They hosted a virtual visit from Dr. Chuck Woods, Senior Scientist at the Planetary Science Institute and the Executive Director of the Center for Educational Technologies at Wheeling University.  He shared fascinating stories from the twenty-year mission of Cassini Huygens to Saturn and his radar exploration of the moon Titan.  His project website https://rebeloutposts.weebly.com/ has archived the interviews and looks forward to future classes building on the research to experiment in extraterrestrial environments to further scientific discovery and space exploration.
The Grow a Generation Distinguished Educator Research Fellowship is an honor bestowed on teachers nominated by their principals.  Each year-long project seeks to elevate the school, community, and world through meaningful projects made possible.  Congratulations to Emily Rosati, Dr. Anthony DeCaria, and Wade Schnorr.