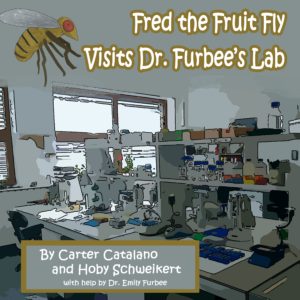 Carter Catalano and Hoby Schweikert, 
two 5th graders from Baden Academy, came into their school's media lab with questions about genetic research using animals and insects. 
They learned bizarre stories and heard from people afraid of "GMOs," before they turned to actual scientists engaged in real genetic research.  What they discovered inspired them.
Dr. Emily Furbee invited them to visit her at the Computational Biology Department at the University of Pittsburgh.  They learned about the genetics of fruit flies and how three generations of scientists have been discovering Nobel prize winning insights into how the genes of all living organisms are mutated, modified, and studied to find answers to questions about reactions to radiation, human and fruit fly development, our sense of smell, our immune systems, and even our biological clocks.  What inspired them the most was the work Dr. Furbee was doing to help with cancer research.
After their visit, Carter and Hoby worked to craft a storybook for children with Dr. Furbee's help. Fred the Fruit Fly visits Dr. Furbee's Lab introduces kids to some difficult concepts of DNA through fun metaphors and an engaging story.  All profits from book sales are donated to St. Jude's Children's Research Hospital.
You can buy the book through Lulu at
 https://bit.ly/2NeFOZ1
.  Carter and Hoby would be thrilled to visit your classroom, library, or community event to share their story and read aloud their book.