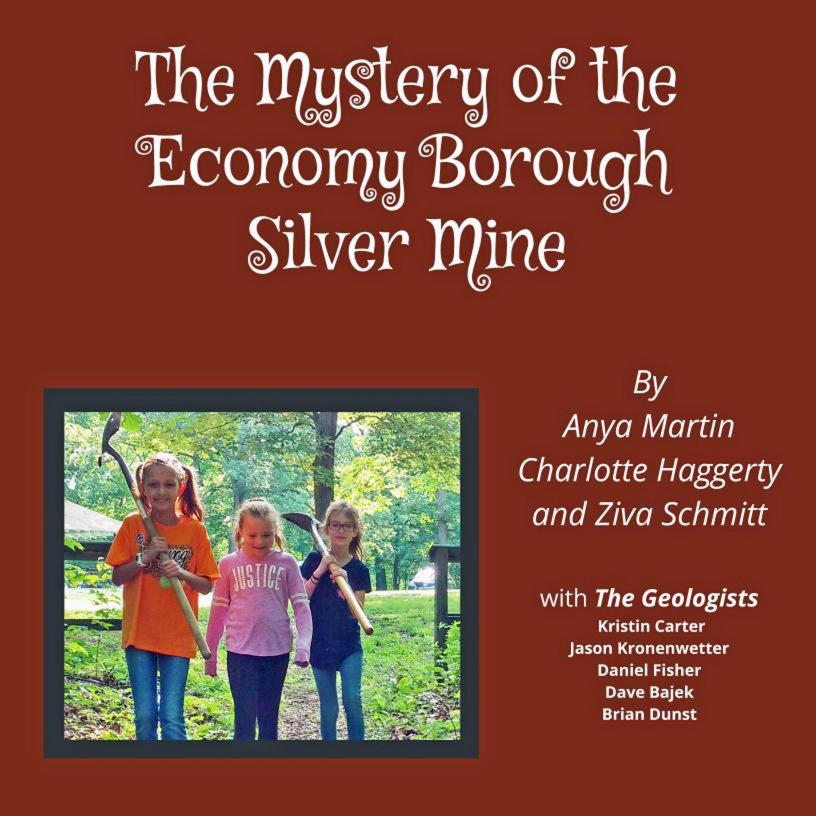 Three research fellows from Baden Academy Charter School wanted to learn more about the legends of silver mines at Economy Park in Beaver County. They read stories on the internet, had heard the ghost stories told about the mines, and were eager to learn if there could be any truth to the rumors about the existence of silver.

The three students—Anya Martin (grade 5), Charlotte Haggarty (grade 4), Ziva Schmitt (grade 4)—wanted to go on a quest to learn more, but they needed some mentors. Several science superheroes came to the rescue. Daniel Fisher, a senior level hydrogeologist, helped them understand more about the element of silver and why it is considered a precious metal. Jason Kronenwetter, the Principal Geologist at EnviroTrac, looked through maps and offered up important wisdom about area geology. David Bajek, the Senior Development Geologist at Chevron North America Exploration and Production, taught them how silver is formed in the earth. And Kristin Carter, the Assistant State Geologist, sent maps and a team led by Brian Dunst and five interns from Bureau of Topographic & Geologic Survey to meet the three students at Economy Park to look for evidence of previous mines.

Wait until you see what they found! Get your copy today and celebrate local history, the quest for scientific truth, and the love of geology. Profits from the sale of the book go to the Geological Society of America Foundation.

To purchase the book, please visit https://bit.ly/2BEwl95

The girls will be doing several public book signings:

Saturday, March 9: The Vicary Mansion / Beaver County Historical Society
1235 3rd Ave, Freedom, PA 15042
Open to the public, from 1:30—3:00 pm. Please stay for the tours of the Vicary Mansion, at 2:00 pm and 2:30 pm!

Saturday, May 4: Old Economy Village
270 Sixteenth St, Ambridge, PA 15003
Open to the public, 1:00 pm to 3:00 pm
Enjoy Hands-On History Days at this historic 19th century village.

Thursday, May 30: STEM Family Night at Baden Academy
1016 W. State Street Baden PA 15005
6:00 PM to 8:00 PM

Anya, Charlotte and Ziva would be thrilled to visit your classroom, library, or community event to share their story and read their book aloud. Please contact Dr. Ellen Cavanaugh at Grow a Generation for information.
If you have a child, grades 6-10, who seeks to bring a meaningful project to fruition, please set up a time to talk to us at the STEM Leadership Center. We are open Wednesday and Thursday nights from 6 pm to 8 pm at Baden Academy.