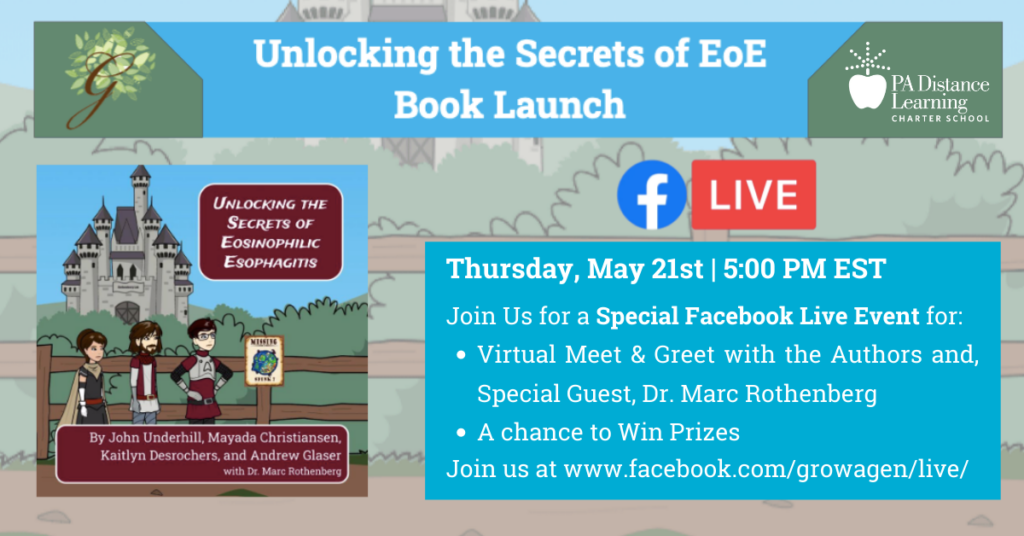 A Virtual Book Launch will be held:
Thursday, May 21, 5:00 PM – 5:45 PM EST
https://www.facebook.com/growagen/live/
Join in to meet the authors, win prizes that include Amazon gift cards, a 3D printed Eosinophil Warrior, and a free copy of their book. Special guest, Dr. Marc Rothenberg, will also be on hand to answer your questions!
Unlocking the Secrets of Eosinophilic Esophagitis is a new children's book authored by student and faculty fellows at PA Distance Learning charter school.
John lives with EOE (Eosinophilic Esophagitis). He has burning pain in his throat for an hour or two after he eats specific foods. It hurts very badly, and John finds a new food every day that causes his throat problems. John and his friends went on a quest to find out what current researchers have discovered and wrote a book about their adventure.
John, Kaitlyn and Andrew joined together with classmates and experts like Dr. Marc Rothenberg to craft this brave adventure and bring to light the real-world scientific progress that is being made. Join the team on their quest to unlock the secrets of EoE. Purchase your copy at bit.ly/UNLOCKEOE . All proceeds go toward Cincinnati Children's Hospital and the continuing efforts of Dr. Rothenberg to seek a cure for EOE.
To purchase the book, please visit http://bit.ly/UNLOCKEOE
Watch the trailer to get excited, then join us Thursday, May 21, for the launch!!