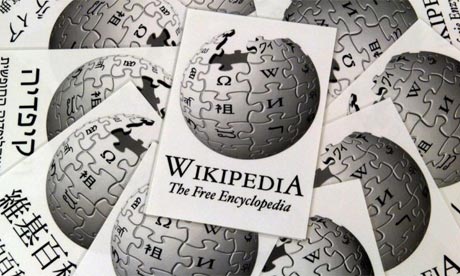 Grow a Generation advocates active learning, engaging young people in meaningful projects, and tapping into a person's intrinsic motivation to learn.  I've challenged parents and teachers to see technology as a tool to help develop a generation of innovators, critical thinkers, collaborators, young people able to take criticism, to fail and rise, who are empowered to make the change they want to see in the world and emboldened by a worthy vision.
I got a chance to practice what I preach this semester with the students of my Global and Cultural Perspectives class at Duquesne. This core course challenges students to read and interpret scholars on the subject of religions of the east. A typical assignment would be to read several chapters or peer-reviewed scholarly articles and write a paper.  This semester, I gave students the option to access a peer reviewed scholarly article and to take the information learned to edit a Wikipedia article.  What follows is a description of my experience and lessons learned
I began with an overview of vocabulary, terms, timelines and controversies in the Hindu faith.  Student's had multiple reading assignments that reinforced what we went over in class of the key concepts they would be searching for.  I gave them an opportunity to look for these concepts in their own fields of study.  As a Core course, my thirty-two students come from diverse subject areas.  I have some nursing students, one preparing for dentistry, several business majors, a budding physicist, an entrepreneur, two history majors, some from the school of pharmacy, one young woman studying corporate communication, another a poetry major.  I have several music majors (including a sound engineer), some physical and speech therapists, one premed, a biologist, and a partridge in a pear tree.  Okay, no partridge – but the potpourri of students is like a Christmas gift with their diversity and enthusiasm for learning.
Duquesne is such a blessing and includes an extraordinary library.  Our department has a reference librarian (shout out to Ted Bergfelt!) that works closely with the teachers and designed an incredible "class page" on the library site to allow students easy access to research databases.  He made himself available to come into the classroom and teach some time saving tips on search parameters.  We talked briefly about the expense of the access to journals and how this was part of tuition.  Many of the students were surprised to learn that research being done at the outer perimeter of human knowledge was not freely accessible to the population.  The conversation was an excellent transition into exploring the inner workings of Wikipedia.
We watched the 2005 Ted Talk by Jimmy Wales, the founder of Wikipedia. He described Wikipedia's beginning in 2001, an online encyclopedia written entirely online by volunteers. The 2005 statistics he quotes include its availability in 250 languages with 1.5 billion page views monthly.  (There are now over 3.5 million articles on Wikipedia). Wales talked briefly of some of the issues of reliability and their policy of neutrality. I elaborated on some of the policies after reading Wikipedia Policies (be clear, concise, avoid redundancy, etc). All of this was coupled with a humility that we were researching and commenting on a religious tradition that (all but one of us) did not practice, and of which none of us could read the original language of the sacred scriptures.
My own preparation included the article about using Wikipedia in School and University projects that Wikipedia prepared. I opted to not contact a facilitator, but rather try to do a Wikipedia edit assignment this semester myself, invite students to do the same to see how the project worked.  It helped to read through some of the descriptions offered by other University professors. I followed the rubrics I prepared and did the assignment myself, finding an academic article on the Hindu concept of dharma and then editing the Wikipedia page on dharma appropriately. I learned the tools of the sandbox and walked the student's through my example. I also discovered how time consuming the process was and warned the student's that a paper would probably be the easier route. We examined the history page of the Wikipedia article, how my edits showed up in comparison with preview editions, and how I would use the rubrics to grade their entry.
I was surprised when thirty of my thirty-two students opted for the Wikipedia Edit option (I recommended those desiring to pursue a graduate degree work on a paper).  None had ever edited Wikipedia before. Out of the thirty that selected the Wikipedia article, twenty-nine completed it.  We learned a lot, not only about Hinduism but about the contemporary climate of the interpretation of religion and its impact on culture and politics.
On the practical side, I keep forgetting we are dealing with a generation of student who has never seen a hard copy of a journal and do not realize that book reviews or opening editorials are not "journal articles."  I also learned that each needed a specific form to fill out to provide the information I needed to grade their assignment: their signin name, a link to the Wikipedia article, and a bibliographic description of their peer reviewed article. The twenty-seven students who accessed an article, I was pleased (it was a mixed blessing) that none chose the same article.  They pulled from journals as diverse as Anthropos, Asian Ethnology, Asian Philosophy, Dialogue & Alliance, The Harvard Theological Review, The International Journal of Hindu Studies, The Journals of The American Academy Of Religion, American Oriental Society, Asian Studies, Religious Ethics, Ritual Studies, Muslim Minority Affairs, Muslim World, Nova religio, Numen, Philosophy East and West, Religion and The Arts, Religion East & West, Religions of South Asia, and Sojourn: Journal of Social Issues in Southeast Asia. The mixed blessing was that I had to read twenty nine articles (including the ones for the two papers) in order to grade.  Many pursued articles in line of their interests (the dental student discovered a Journal article about the religious ritual of teeth filing (that is filing not filling) in Bali).  I credit our University library and their investment in database access that made this type of search possible.
Students edited a variety of Wikipedia articles, including "Ahimsa," "Ashtavakra Gita,"  "Avidya," "Ayodhya dispute," "Babri Mosque," "Bhagavad Gita ," "Buddhism and Hinduism ," "Caste System in India," "Dharma," "Durga," "Dhyana in Hinduism," "Hatha Yoga," "Hindu Politics," "Hinduism and Indonesia,"  "Karma in Hinduism," "Maha Shivaratri," "Moksha," "Nada Yoga," "Proselytism," "Reincarnation," "Samsara,"" Sati," "Tantra," and "Yoga." Several were deleted from their first postings with the recommendations to post on a different page.  Some were deleted because of grammar, relevance, or cogency. (If their entry was deleted, I could still access it in the page history in order to grade). Most of the students did an excellent job, comprehending the article they had read accurately and making an appropriate edit.  Some did not. Like any college assignment, we uncovered areas of comprehension, writing ability, grammar and problem solving that needed improved upon. For the sake of the Wikipedia community, I asked students to make corrections before grades were submitted.
We ran into articles whose neutrality is disputed and needed citations for verification. The Babri Mosque was a site from which two students had entries deleted. The Wikipedia community became part of the classroom as editors of various sites (volunteers themselves) took the time to respond in detail to questions. Specific editorial and stylistic corrections were suggested to express minority viewpoints.  Instructions were made to support claims of bias by quoting specific research from the articles referenced. The dialog created an atmosphere in the classroom that brought the faith claims of other religions from philosophical category to real world debate.
Student reactions to the assignment were very positive.  When I mentioned one of the student's wrote "This assignment was two times the work of the paper, but definitely worth the effort," another shouted out, "Mine was three times the work!" yet seemed proud of the time it took. The dialog continues, and at least one student has undertaken additional research to clarify her edits (grading is already completed).
The foray into editing Wikipedia advanced the students' knowledge and helped to populate Wikipedia with some of the most recent scholarly insights into Eastern Religions. It reinforced for the student's the value of the expense of education, an atmosphere where professors can devote a lifetime into mastering a specific area of expertise and push the limits of human knowledge.  It also brought into perspective the growing community of open source information and the wonderful collaborative environment that seeks to make information free to the world.
And now I'm off to try to master Gamesalad for the next assignment!