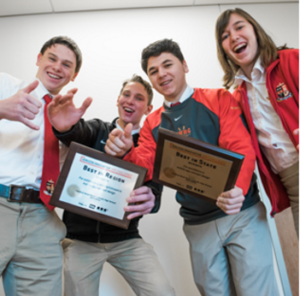 UPDATE 2/2/16:  The SAFESPEED App just won Best in Nation with a total of $20K for their school, tablets for the team, and the chance to work with trainers in the MIT App Inventor software to bring their app concept to the Google Play Store.   Congratulations to the team.  Visit their website www.cwncsafespeed.weebly.com to download the app and read about the updates.
UPDATE 1/14/16:  The SAFESPEED App just won Best in Region and will move on to compete for the eight Best in Nation awards.  
UPDATE 1/10/16:  Our SAFESPEED App just won $5K in the Verizon Innovative App Challenge for creating the best app concept of all high schools in the state! Now help us win the nationwide App Challenge Fan Favorite award and $15K more. Text SAFESPEED to 22333 by January 31. 
In the News:  N. Catholic Teens Develop Driving App Cranberry Eagle
After months of work, the Cardinal Wuerl North Catholic Create Lab successfully submitted their application for the Verizon Mobile App Challenge. Weeks in the lab were spent preparing the essays, the scripts and screen shots for the video, filming and editing. On behalf of Giovanna, Matt, Chris, Veronica, and Luc let me say thank you to everyone who helped!
We wait with fingers crossed to hear if we were selected as winners, If we are, Verizon and app developers from MIT will help us move forward.
FROM TWO OF THE ESSAYS SUBMITTED:
"Teen Killed, 2 Others Injured in Butler County Crash." The headline from October 17, 2015 sent a chilling, sobering reality throughout the local community. "… Statistics from a 2013 CDC report claim 2163 teenagers (ages 16-19) were killed in the United States due to motorized vehicle crashes. An additional 243,243 other teenagers were placed in emergency departments with injuries suffered. The CDC states that drivers ages 16-19 are three times more likely to be in a fatal crash than drivers who are over 20. Six teenage deaths from motor vehicles happen every day. This issue needs to be addressed or this problem will not depart from our society. Introducing SAFE SPEED, a leading-edge, mobile, speed monitoring app designed especially for teenage drivers and, just as importantly, their concerned parents.
SAFE SPEED provides real-time, customizable, non-distracting speeding alerts for teens. These alerts can be set as recognizable tones. Alerts are synced to posted speed limits (Verizon Navigator, GrayDrop, or similar). They detect speeding when the teen is driving or a passenger in a friend's car. If the vehicle fails to slow within a preset time limit (for example, 30 seconds), the parent is notified via text message. If the teen arrives home with no speeding, a recording of Vin Diesel, Nicholas Cage or Danica Patrick rewards them with some ridiculously positive message and texts their parents about how wonderful they are. Other virtual rewards can be added including a collaborative competition with family and friends. The app provides parents with personalized options, instant alerts and comprehensive reporting that can be shared with insurance agencies. Parents can establish settings and criteria including how much over the speed limit and for how long; how often to receive a report via text or email; if the app should be activated randomly to conserve data usage; or an alert if the app is turned off or switched to airplane mode. Information can be stored in the cloud on a SAFE SPEED portal.
CONGRATULATIONS TEAM!!!