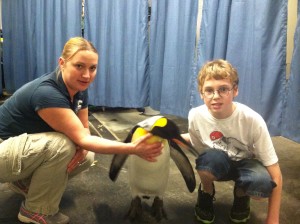 6th grade Gavin, working on his third book about penguins, met last month with his mentor Katy Wozniak and several King Penguins at the Pittsburgh Zoo.  Katy is the lead aquarist and penguin keeper.
Gavin started writing about penguins in 3rd grade.  His first book, Saving a Galapagos Penguin Family, was published as a children's book through Lulu.  His mother, Jennifer, is the primary illustrator for all of the books.
Gavin's second book, The Little Blue Penguins of North Sydney Harbour, was written in collaboration with several scientists and park rangers in Australia who work to save the penguins.  The collaboration was extraordinary, with mentors and Gavin working through months online in Google Docs refining his book draft and editing illustration ideas.
Gavin has raised several hundred dollars in donations for the Pittsburgh Aviary (beneficiary of the first book) and is getting ready to send off his first check to the Little Swiss Penguin Girls raising funds for new rubbish cans on the Blue Penguin beaches.  Proceeds from his newest book will benefit the Pittsburgh Zoo.
"When I went to the Pittsburgh Zoo to meet my mentor for my new book, I didn't know I would get to meet the King Penguins they had there. My mentor is Katy and she answered every question I had plus told me lots of facts I didn't know. She showed me how the penguin's feathers grew and told me about their special second set of eye lids that help them see underwater." Can you imagine a world without these amazing flightless birds?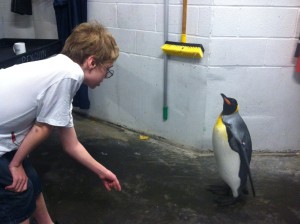 This is the 200th blog post of Grow a Generation, a company dedicated to making meaningful projects possible.  Peter Diamondis, CEO of the X-Prize Foundation and pioneer in genomics and space, speaks about our 21st century world of abundance with exponential technologies, crowd-sourced funding, and a global interconnected world. It is possible for anyone with a bold vision, even a 10 year old in love with all 17 species of penguins, to collaborate in solving the world's problems.
As the New Year approaches, I invite you to set some bold resolutions and empower the young people around you to work on meaningful problems and imagineer a more beautiful world.