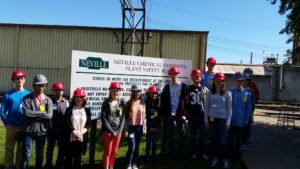 The second day of the 2016 CWNC STEM Careers Tour began with a visit to Neville Chemical located on Neville Island, an island on the Ohio River about 10 miles from Pittsburgh, Pennsylvania. Neville Chemical began in 1925 producing coumarone-indene resin from coke co-products that were being generated from the steel manufactures. During World War II, the company produced many specialty chemicals for the government. In the late 1940's, Neville saw the development of petroleum cracking units as a new and innovative opportunity. Today Neville Chemical Company is one of the largest produces of hydrocarbon resins and solutions. Neville products are used for the manufacturing of printing inks, adhesives, rubber goods, plastics, paints, coatings, and concrete cure.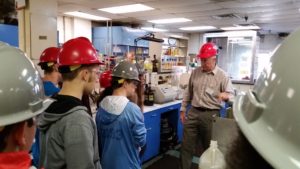 After being outfitted with hard hats and safety glasses, we began our tour of Neville Chemical by walking through the outdoor facility. Our guide was Paul Sauers, manager of raw materials and special products at Neville with over 33 years of experience! He guided us first through the warehouse where we saw hundreds of pallets full of sacks of finished product. Each sack of finished product is labeled with a unique code that enables all of the raw materials that were used to make the product can be traced in case any quality issues occur. We were then led through the outdoor operation facility that consisted of tanks for storing the raw materials, reactors for the polymerization, heat exchangers, distillation columns for separating materials and pipes connecting everything. It was amazing! After learning about the equipment and process for making hydrocarbon resins, we toured the Quality Control Lab that ensures that the finished product meets its desired specifications. Lastly, we visited the Research and Development Lab equipped that focuses on developing new products to meet the needs of the customer and enhancing the current products to be more efficient, safer, and more cost-efficient.
The tour of Neville Chemical provided us with a great view of a chemical plant that has a 90 year history in the industry! It was fascinating to see the large-scale equipment and how it all fits together to make hydrocarbon resins.