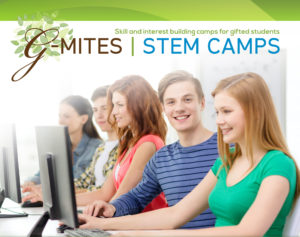 Tuesdays, 6:30 pm beginning January 31
at Cardinal Wuerl North Catholic
G-Mites STEM camps provide gifted youth in grades 3-12 with fun opportunities to explore new and relevant skills in STEM careers. We believe in giving students a chance to discover his or her passions and innate curiosity; with hands on experimentation, one on one coaching, and mentors who are truly passionate about what they teach. Each camp is a 6 week course specifically designed to build new skills from the ground up.
MovieMaking 101
Grades 8-12
5 Tuesdays beginning January 31
Cardinal Wuerl North Catholic

DIY Circuit Boards
Grades 7-10
5 Tuesdays beginning January 31
Cardinal Wuerl North Catholic
Fabric Science
Grades 6-8
5 Tuesdays beginning January 31
Cardinal Wuerl North Catholic
MAD SCIENCE
Grades 3-6
5 Tuesdays beginning January 31
Cardinal Wuerl North Catholic
Download Flyer Here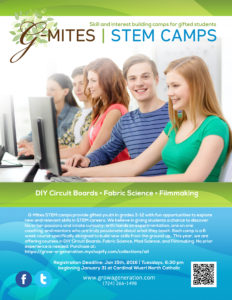 Check out some high points from Summer 2016
STEM CAREER TOURS HIGHLIGHTS
---
Camps in the News…