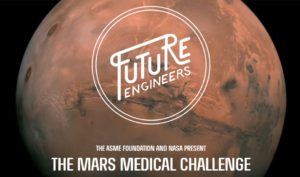 The Future Engineers Challenge is the ideal skill building free fun project for over the holidays!
K-12 kids are challenged to create a digital 3D model of an object that could be used by an astronaut to maintain physical health on a 3-year mission to Mars. The design must be intended to be 3D printed and could be used for a range of medical needs including diagnostic, preventative, first-aid, emergency, surgical, and/or dental purposes.
While any entry into the contest should include lots of research and rigor, get started with some silliness.  What is the most ridiculous item you would NOT need on the mission.  Have some fun.  Watch The Martian.  Mostly, have some time playing in TinkerCad and learning some basic skills in creating 3D objects for 3D printers (Minecraft players find this very easy!).
TINKERCAD
Start by creating a TinkerCad account (tinkercad.com).
HINT Write down the email, username, and password somewhere you can track it.  If you child is already using a TinkerCad at school, their teacher should have sent you their signin details.  If your child needs an invite code for a free account, you can use 1I8CGI8B for the next 7 days to join the Grow a Generation fellows in learning.
Tutorials are on the Tinkercad site.  Lots of tutorials.  And projects.
When you want to take a break from CAD tutorials, check out the learning opportunities on the Future Engineers site.
FUTURE ENGINEERS
The Mars Medical Challenge has one month left to enter. Retired astronaut Scott Kelly's historic one-year mission on ISS provided insights on how the human body reacts to long duration spaceflight, but the Journey to Mars will take approximately 30 months. What health-related items do you think an astronaut will need on that journey, and why would these items require a 3D printer? It's time to start flexing problem-solving and design skills to find a solution, good luck!
Log into their website and go to the Challenge page.  http://www.futureengineers.org/marsmedical
You will scroll past the rules, and check out the submissions already made.  They are pretty incredible.  Then go and watch all the videos in the "Learn" Section under the categories of science lessons, brainstorm, design, etc.  The kids I've worked with at Baden Academy were helped by visiting the nurses office and asking about the tools she needs.  If you have any doctor appointments scheduled over the holidays, this is one of those great questions to ask the nurses.
This is the Christmas break – so we want to make this as fun as we can.  The rigor of science should play a role in any entry meant for competition. Set your goals carefully.  Choose a place on the spectrum between having fun and using our imagination without bounds and working through the iterations of the design process and the limitations of space to produce a competition worthy instrument that may go on to save a life.
Be sure to share your entries with me and I will be thrilled to tweet them out!