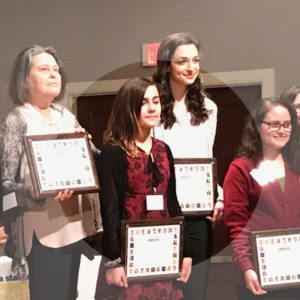 Aleenia Reich, Research Fellow and leader of the Baden Academy Take Action club has received the 2017 Youth Champion award from the Pennsylvania Statewide Youth Development Network. She is a personal hero and I am so proud of her!
I nominated her a few months ago with the following:  Aleenia is an extraordinary young woman currently in 5th grade.  She was named a research fellow in our Media Lab program last year when she proposed to run an afterschool service learning club.  Using the curriculum and campaigns provided by WE Schools, Aleenia has led and inspired the students to sell Rafiki bracelets to benefit education in Kenya, hold bake sales for area food banks and homeless shelters, raise awareness around global justice issues, and helped the school raise over $16,000 for St. Jude's hospital over two years.  I cannot emphasize how capable this young girl is.  Last Wednesday she left organized games, videos, and assignments for the club [and for the mentor!] as she knew she had to leave early (to help a teacher with another afterschool project).  Watch the TED talk she made last year  and the playlist for the club (Aleenia does the storyboards, filming, editing and posting):
I can't emphasize enough have mature, collaborative, and enthusiastic Aleenia is. She inspires the kids and the educators of the school to join this club and take part in its actions.
Aleenia returned yesterday from the awards ceremony in Harrisburg. She had a chance to fill in club members about the awards ceremony.  Aleenia was invited to speak for 5 minutes about the We School campaigns.  She spoke for fifteen!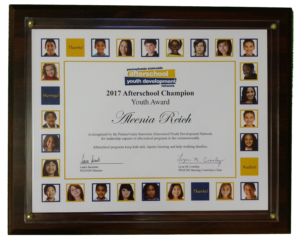 She mentioned she was the only eleven year old recipient of an award at the reception.  All the others were between 18 and 59.  She talked of the grandeur of the Hilton in Harrisburg, and brought back pictures of the lobby chandelier. She was humbled and inspired by the other recipients and talked of their selfless contributions to their communities and to the world.
Aleenia is such an extraordinary young women.  When she was done talking about her award, she refocused the group on where the money they have raised for global issues will impact the world.  The group chose to spend some time focusing on Haiti. Many of the group had stories of camp counselors and other leaders who have volunteered time and talent to help pull this nation out of abject poverty.
I love that Aleenia and the Take Action club sit the midst of robots, arduinos, and programming clubs.  Her compassion for others and her selfless desire to serve are a reminder to me why I seek to make all our project based learning meaningful!
A special thank you to mentor and teacher Sara McMillen who serves as the adult facilitator of the club.  We love you Aleenia!