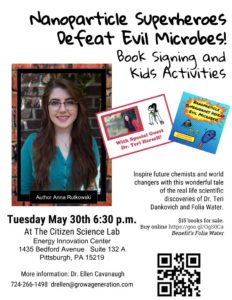 Come one and all to the memorable book signing for Anna Rutkowski's new children's book Nanoparticle Superheroes Defeat Evil Microbes.  The book tells the inspiring story of Dr. Teri's wonderful nanoparticle infused paper that makes polluted water drinkable for, potentially, millions of children and families around the world.
Anna partnered with Dr. Teri to craft the story then created the illustrations.  Any profits from the book go to Folia Water to assist in their amazing mission to bring clean water to every person in the world.
The book signing will be at the Citizen Science lab and opened and free to any adults and families.  We will have several activities for children and special guest Dr. Teri herself. We are so grateful to the Citizen Science Lab for hosting us!  This incredible hands-on laboratory is the only Pittsburgh life sciences lab open to students and the public.
Come, be inspired, celebrate science and help save a life.