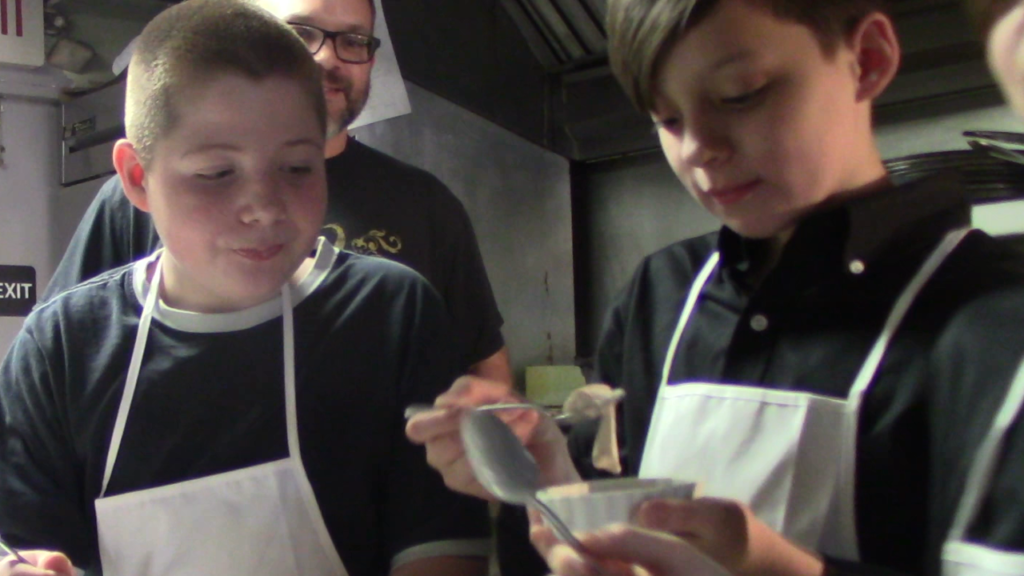 Four years ago, two third graders walked into the Media Lab applying to be research fellows. They wanted to write a cookbook. As Anthony tells it, "Dr. Ellen pointed us toward molecular gastronomy – you know, using physics and chemistry to make food even more amazing. and biology of food. Fifteen videos and four years later it is still amazing!" Those two boys have inspired five more students to become "MG Kids" and explore the science of food.
Check out their latest video with Chef Jason at the incredible Latin restaurant in Beaver, Biba.
The MG Kids are a great example of what a fellowship can become. The boys have worked with chefs and chemistry professors. They have given a TED Talk. They have stood in the lab examining a map of the world to find the address of the molecular gastronomist in the United Arab Emirates who retweeted their video. They've inspired three 3rd grade girls to become MG Kids. You can check out their first video below and wait with bated breath for their episode with Dr. Rodney Austin at Geneva University on Sour Dough Bread and their upcoming film on Shortening!
Their explorations have been such fun and an amazing journey. I hate having to say goodbye to them when they graduate from Baden Academy in 6th grade. It is the joy of working with amazing kids like these that inspired me to open the STEM Leadership Center.
The Center has been opened since November are we are thrilled to have five new fellowship projects. Each one is open to more fellows if you have a 7th-10th grader looking for a challenge in these areas, please have them apply. We have moved our hours to Mondays and Wednesdays from 6 pm to 8 pm. We meet at the Baden Academy Media Lab. Look over the list and consider signing up for a free orientation to come in an talk!
+ One Step at a Time is studying quadrupedal robotics in biomimicry and explaining to connections between four-legged animals, and the construction of hoofs, leg joints, and the movement of four-legged robots.
+ Bridge Builders of Tomorrow is looking to partner with engineers working to come up with economically viable solutions to repair and build new bridges with a shrinking tax base.
+ Charging Into the Future is examining solid state batteries in electric cars.
+ RFID Technology, Big Data Meets Healthcare, and Going Nuclear are in the works.