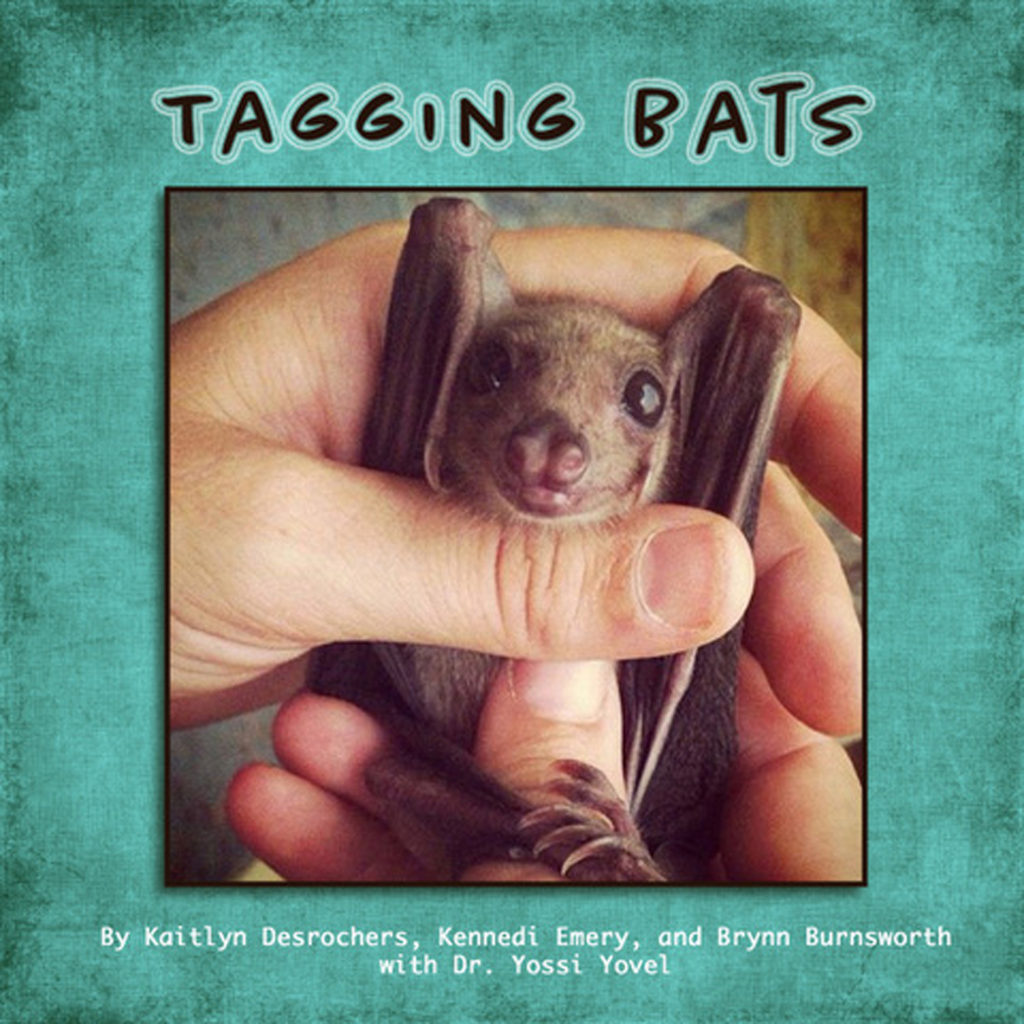 Three sixth grade girls from Baden Academy came across a news alert about a scientist in Israel who was studying bats. That wasn't so unusual, but then the girls realized the scientist was using the same type of RFID technology to track the bats that Baden Academy uses to help electronically match students to their correct buses. What a coincidence!

The students—Kennedi Emery, Kaitlyn Desrochers, and Brynn Burnsworth—reached out to Dr. Yossi Yovel at Tel Aviv University to find out more, and they eventually turned their fascinating research into a book called Tagging Bats. The girls were excited about every step of the project, from seeing the Hebrew characters in the correspondence from Dr. Yovel, to learning more about Tel Aviv, to understanding how technological advancements can help humans learn more about bats by tracking them.
Kaitlyn and Kennedi had already worked with Penn State's Biology professor Dr. Miller-Butterworth on a book called Bats in Danger, so they were glad to learn the disease that has been killing so many bats in Pennsylvania wasn't found in all parts of the world. They also learned how bats were helping scientists at the University learn about how the environment (ecology) affects the brain (neurology). The Yovel Bat Lab website and Dr. Yovel's staff helped the girls understand the important work the scientists are conducting to better know and protect bats.
Brynn also built on her experiences running Baden Academy's programming club and making a TED Talk about radio waves. Dr. Yovel and an Israeli technology company had to invent a new type of RFID (radio frequency ID) tag that was light enough and quick enough to record the bats. Dr. Yovel then got a company from Boston to help make a sensor backpack that could record bat voices, map where the bats flew, and measure their heartbeats.
The girls gained so much by trying to figure out each small piece of equipment and what it can teach us about bats and about ourselves. Their biggest hope with the book is to inspire other kids to love technology—and bats! You can get your copy today and enjoy their story of discovery. Profits from the sale of the book go to the Bat Conservation Fund.

Visit the girls' website at bacswildlife.weebly.com
To purchase the book, please visit http://bit.ly/TaggingBats
A book trailer was created and can be found at
The girls will be doing several public book signings:

Wednesday, May 22, 4:00 to 6:00 pm: Literary and Visual Arts Festival, Lincoln Park Performing Arts Center (1 Lincoln Park, Midland)
Thursday, May 30, 6:00 to 8:00 pm: STEM Family Night, Baden Academy (1016 W. State Street, Baden)
Kennedi, Kaitlyn, and Brynn would be thrilled to visit your classroom, library, or community event to share their story and read their book aloud. Please contact Dr. Ellen Cavanaugh at Baden Academy for information.

About Baden Academy
This public charter school in Beaver County, Western Pennsylvania, works to inspire personal excellence. It cultivates the inherent gifts and talents present in all children by providing a curriculum that integrates the arts and sciences in a highly interactive, hands-on environment.

About Grow a Generation
Do you know a child with curiosity who is ready to work hard on a meaningful project? Sixth-Tenth graders are invited to apply for a fellowship opportunity at the STEM Leadership Center. Register here…