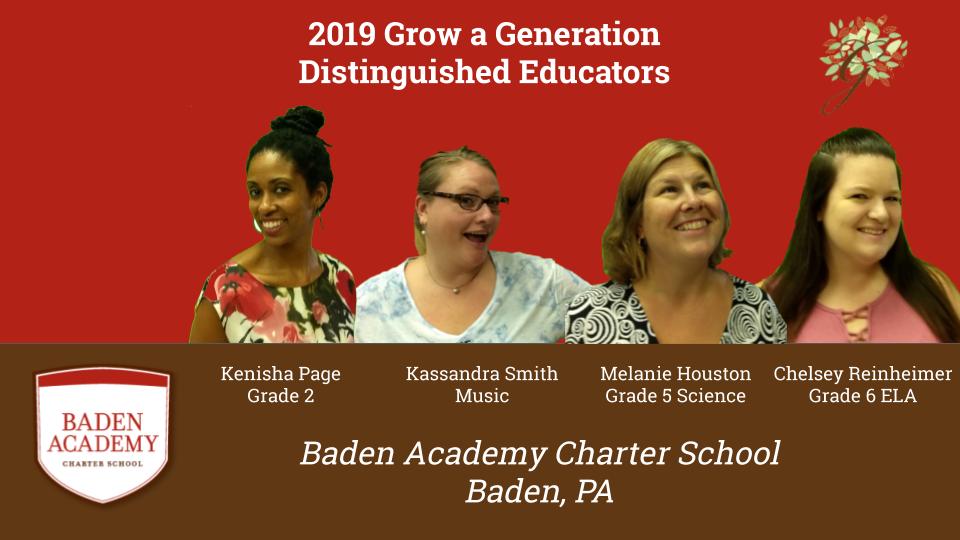 Four teachers at Baden Academy Charter School have been named 2019 Grow a Generation Distinguished Educators. Each volunteered to work hard in a year-long fellowship project that helped hone their craft of teaching. Each project expanded knowledge of content and pedagogy, involved the students in their own learning, empowered students to act in new ways, and sought out other education professionals working on similar problems.
MELANIE HOUSTON, GRADE 5 MATH AND SCIENCE TEACHER
Melanie Houston project inspired fearless scientific explorers with a Space Shuttle Tile.  The Houston Solution presented students with problems encountered in the vast expanse of space, the beginnings of knowledge to solve them, and the inspiration from successful space-themed STEM projects.  
You can find out more on her website houstonsolution.weebly.com.
KENISHA PAGE, GRADE 2 TEACHER
Kenisha Page celebrated  Beaver County underground railroad sites and stories that served thousands of escaping slaves.  The Beaver County Black History project leads ​students of Beaver County to discover the rich history of our community's active fight against racial inequality, particularly our role in the Underground Railroad. 
You can find out more at her website beavercountyblackhistory.weebly.com.
KASSANDRA SMITH, MUSIC TEACHER

Kassandra Smith burst through barricades in her lip sync directorial debut.  Her project required her to storyboard, choreograph, develop a shooting schedule, operate cameras, shoot footage, supervise editorial processes and produce a lip sync video involving every member of the school community. The project's purpose was to explore how film can add dimension to learning, aid in the analyses of the expressive elements of music, increase the ability to explain particular elements of music within the song selection, and motivation to improve performance.
CHELSEY REINHEIMER, GRADE 6 ELA
Chelsey Reinheimer taught mindfulness to increase comprehension, creativity, and focus in an English language arts class.
You can find out more at her website mindfullanguagearts.weebly.com.
All of these wonderful teachers went above and beyond what was simply required in the classroom, above and beyond honing their craft as teachers. They rose to the heights of demonstrating their love for learning by fearlessly demonstrating to their students their commitment to life long learning, their willingness to risk mistakes, and their high expectations that what is happening is important and it is essential to get it right.
View our Playlist of
21 Distinguished Educators