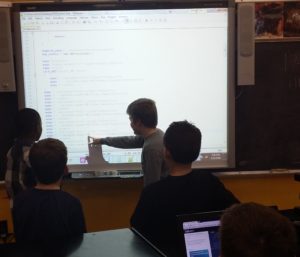 Change the Equation (CTeQ), a STEM Education Initiative with board members from Intel, Exxon, and others, has analyzed billions of dollars of corporate donations into STEM education looking for the best Return On Investment.  While they look to scalable programs, I would the partnership between FedEx and Baden Academy has met all the other criteria for a phenomenal and deep commitment to a particular community of students and teachers dedicated to STEM.
FedEx partnered with Baden Academy to create a digitized dismissal program.  The hardware and the software have become an extraordinary opportunity for STEM (Science, Technology, Engineering, and Math) education.  But the program did not begin and end with saving kindergarten kids the trauma of transportation troubles.  Check out 3rd grade Aderyn's explanation of how the Dragon Tag Programming club handled the software issues and the 3rd grade classrooms are investigating hardware problems.
Feel free to check out her website at www.bacsrfid.weebly.com 
This singular investment from FedEx, coupled with some generous donations from Atlas RFID and Alien Technology, have inspired 90 3rd graders in a year long scientific quest and another 15 4th-6th graders into learning HTML, PHP, and some basic principles of computer programming.
Dru and Glorian, the leaders of our Dragon Tag Programming Club, also prepared a TED Talk.  Their talk focuses on the coming IoT, the Internet of Things.
The club celebrated its last gathering of the school year and played a game of "Name that Nerd" led by their mentor programmer from FedEx, Tommy Moran.  As they tried to recognize Bill Gates, Steve Jobs, Sergey Brin, and Sheryl Sandburg, they stated again their commitment to voraciously learn enough programming to build original IoT systems before they finish high school.  They are inspired!
All of the STEM Education flowing from FedEx's original investment of time and money is inspiring specific kids in very specific ways. Thank you!!  CTeQ has some well grounded principles and rubrics for corporate STEM Philanthropy. The partnership between FedEx and Baden Academy checks the boxes:
The program address a compelling and well-defined need
The program uses rigorous evaluation to continuously measure and inform progress in addressing the compelling need
FedEx continues to commit resources and develop resources within Baden Academy that make the program sustainable
Unfortunately, we miss one box.  Because the Dragon Tag program uses unique resources, personnel, or other requirements, it is not scalable.  It is unique to Baden Academy with its 15 school districts and students from diverse backgrounds throughout Beaver County. But the other boxes are covered.
Created high-impact partnerships
Has exceeded its goals and continues to grow!
STEM content is challenging (very challenging!) and relevant
Incorporates and encourages STEM practices
Inspires interest in STEM
Grow a Generation is committed to make meaningful project possible and facilitate inspiring productive relationships between schools and companies and mentors and students.  Feel free to contact us if your school or company is looking for opportunities to grow a generation of STEM Athletes, Digital Storytellers, and World Changers.
---
Additional Comments:
Hi Ellen,
Thank you so much for sharing the video. My colleagues and I absolutely love it and are so impressed by Timothy's speech! The impact that Glenn had on Timothy and his teammates is exactly why we do what we do. We will certainly integrate the video/story into our Judges page on FC's website – I think it could really show potential judges the effect that they can have on students (way to go, Glenn!)
Thanks again for sharing!
Maggie
Maggie Dressel
Program Manager
Future City
FutureCity.org