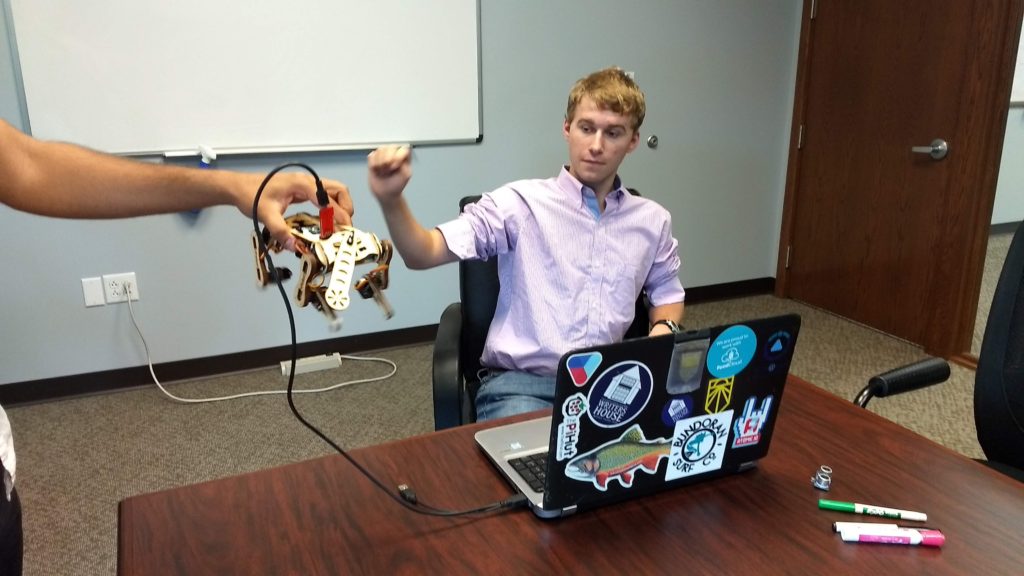 This is a picture of one of our research fellows, Eugene Haley, using computer vision to control the movements of a robotic kitten. The story of how we got here is amazing!
One of the fellowships at the STEM Leadership Center started with Elise Propst, a long time amazing student with a love of four-legged pets (including horses!). Elise started the fellowship to play with 4 legged robots.
(officially… "  investigate robotics engineers who are working to solve problems inherent in four-legged robots (balance, strength, resilience, sensory function, and adaptability). We want to discover if solutions informed by the biomimetic study of mammalian quadrupeds (cats and horses) would be better. This involves studying the evolution, biology, and physics of how horses, dogs, and other four-legged creatures utilize their legs, hooves, and center of mass. ")
She and her friend Jamison did some research and made their logo, website, and first video for 4StepRobotics.weebly.com
While Jamison stepped back from the project, Elise welcomed a new project fellow Eugene Haley to work on a 4-legged robot for the upcoming Pittsburgh Science and Engineering Fair. They went in search of one they could build and modify inexpensively and found a kitten then could make from 3D printed parts and about $100 of electronic supplies.
Their kitten was based on an open-source project created by Petoi, the makers of the world's cutest robotic kitten Nybble. (Open-source means that the complicated programming behind the project is available for the fellows to download and experiment with!)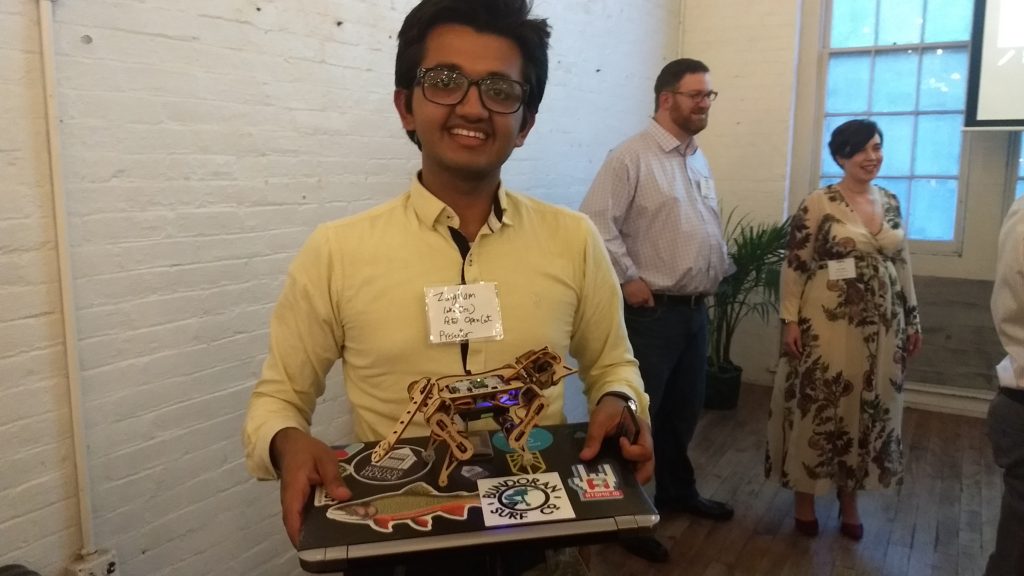 So I was invited by friend and prototype wizard Joel Cilli to a networking event called Build 412 Tech. The particular evening included the presentations of competing tech startups for the Rivers Agile $1000 prize and the awesome Pittsburgh Tech Championship Belt. Guess who I met! Last year's winner Petoi with their software developer, Zaigham Randhawa.
I was able to show him Elise and Eugene's project and he was eager to meet them. With six days we had an interview set up and filmed. The day included meeting some other computer science students at work on summer projects at CMU and filming an extended interview about the kitten.
Eugene and Elise are back in the STEM Leadership Center editing the interview footage and finishing their original prototype for testing. They are thrilled to have the support of Zaigham and Petoi founder Rongzhong Li to call upon for software help. Their kitten (Orabelle) is being created for the Alzheimers and Dementia patients at Villa St. Joseph, hoping it will create laughter, bring joy, and ward off isolation. Follow news of their project on their website 4steprobotics.weebly.com.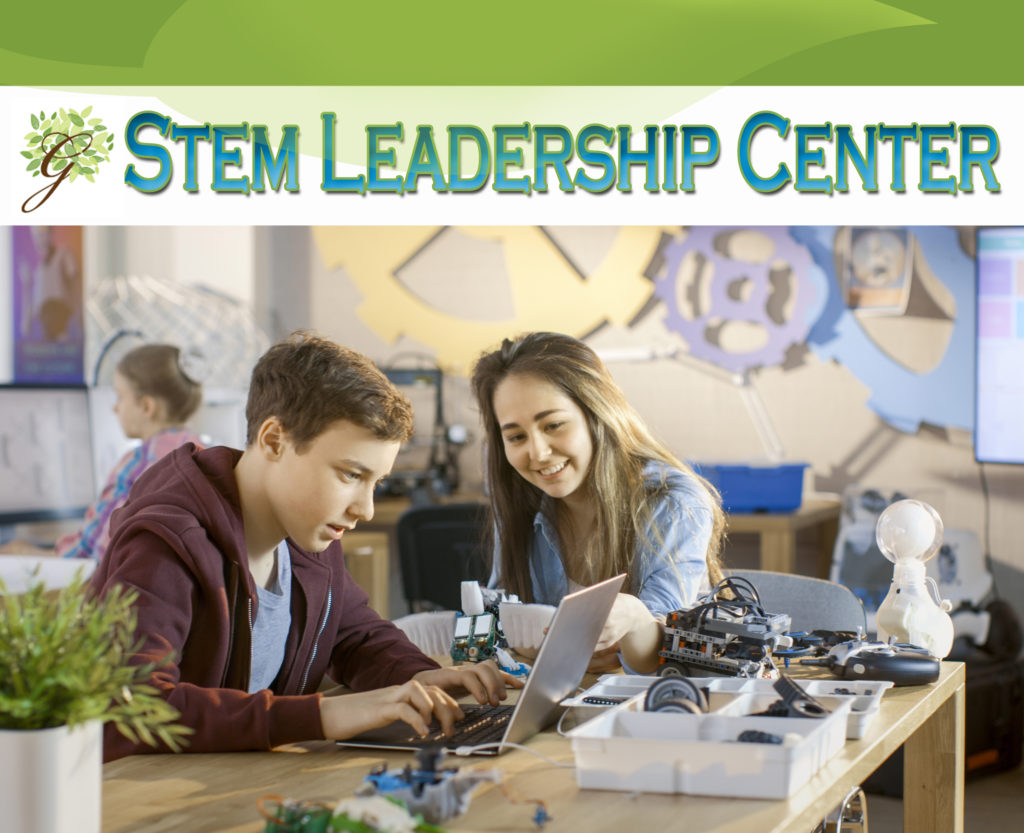 Do you know a 6th-10th grader who is a potential STEM Leader and Odyssey Fellow? Nominate them today for a special free tour and interview at our STEM Leadership Center evening facility located at Baden Academy in Baden, PA. NOMINATION FORM